Parishioner Profiles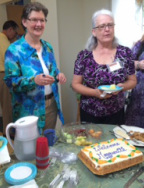 Meet Marguerite (pictured on left), who began as Seminarian at Christ the Lord in September 2015: "Raised as a Unitarian-Universalist on the East Coast, I became a Christian at 20 years of age and settled in the Episcopal Church after completing an academic Masters at Virginia Theological Seminary in 1977. I've
lived in the Bay Area since then; I was a community organizer first around preventing alcohol problems and then focused on
increasing access to financial services. I was very active
in church - at the altar, in the choir, on the precursor of the Diocesan Recovery Ministries Commission, starting an intercessory prayer group and serving as Senior Warden – and in 2013 I officially embarked on the path towards ordination to the
Priesthood. I am deeply honored to serve as your Seminarian especially during this time of CTL's emergence as a parish."
Click here
to listen to Marguerite's first sermon, delivered on October 18, 2015.
---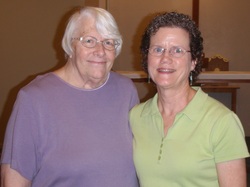 Phyllis and Ann
Ann has been attending since 1984. She says, "The congregation has become family. It's inclusive and accepting of all people. I feel like we are truly following Christ's teachings of inclusivity."

---
On May 1-2, 2015, our Vicar Susan Champion accompanied Elizabeth, a youth member of our congregation, and three youths from Holy Trinity church, to Nightwatch at Grace Cathedral in San Francisco. At this event, the Diocese of California welcomes any student in grades 6-8 as well as high school students for a night of art, music, and creative worship and the chance to spend the night in the Cathedral. This year's theme was "Journey" and focused on the spiritual story of a young Jesus' visit to the Temple. This is a much-loved annual event. Here is a short video of participants learning to play Cathedral Commando.
https://www.facebook.com/samdessordi/videos/10153314900272959/?comment_id=10153316991662959&offset=0&total_comments=1

---
This past Palm Sunday our Choir performed a rousing anthem, "Jacob's Ladder," a spiritual arranged by our Choir Director Jeanne Walpole. Weekly Jeanne and our Choir provide us with music to awaken our spirits and bring the Holy Spirit to our service. Watch for yourself and see. Or stop by a Worship Service at Christ the Lord and hear them live.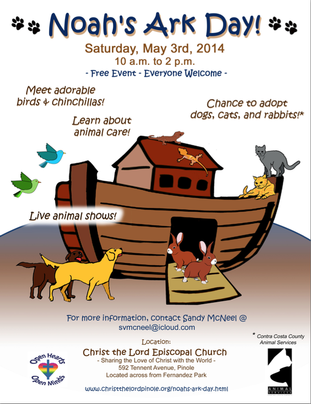 Noah's Ark Day
Saturday - May 16, 2015 - NOAH'S ARK DAY - 10:00am - 2:00pm. FREE COMMUNITY EVENT! Bring your children, grandchildren, friends, and neighbors! Everyone is invited to come to Christ the Lord Church to see and learn more about bees, birds, cats, chinchillas, dogs, rabbits, and reptiles!
NOTE: Please leave your own pets safely at home!

Exhibits will be from 10:00am to 2:00pm in the parking lot, the Narthex, and Sanctuary of Christ the Lord Church. Some animals will be available for adoption on-site.



---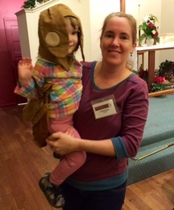 Parishioner Profiles

Hi. My name is Vanessa and this is my daughter, Maybelle. We belong to Christ The Lord church. We started coming here last fall. We have found a diverse, welcoming group of people here -and a solid spiritual home. I like the childcare provided during service and Maybelle likes going to Sunday School and has made friends with the other children. As a parent, I like the children's services, like the Christmas Eve service we are pictured at here. Maybelle is dressed up as a manger animal. I feel like Christ The Lord makes the effort to help me provide my daughter with a spiritual upbringing. I'm glad we found this community.

---