Contact Us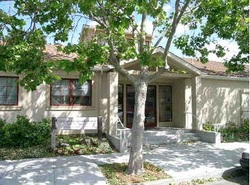 CHRIST THE LORD CHURCH
592 A Tennent Avenue
Pinole, CA 94564
For Map see below. Christ the Lord Church is located at 592 Tennent Ave, Pinole CA 94564 (across from Fernandez Park). Take Pinole Valley Rd. exit from I-80 and go towards bay for about 10 blocks. Road Y's twice; take left fork of Y each time. Pinole Valley Rd. will change names to Tennent Ave. We are one block past San Pablo Ave, across from Fernandez Park, at the corner of Tennent Ave. and Park St.
Telephone: (510) 724-9141
Rector's Email:
vicarsusan@hotmail.com
Website:
www.christthelordpinole.org
Church Office Hours:
Monday through Thursday the office is usually open. Please call ahead to confirm that Mother Susan is on site before stopping by.
We look forward to hearing from you!
God bless you today and always!
---