Faith Formation at Christ the Lord Church
Do you long to grow closer to Jesus and stronger in your faith?
Here are some ways you can learn more and deepen your faith.

Weekly Worship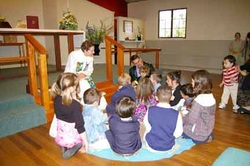 Coming to weekly worship regularly is one of the best ways you can grow in your faith. Hear lessons from and reflections on the Bible that you can apply to your daily life, and participate in our weekly Communion. Weekly worship times are:
Sundays at 9:30 a.m. - The Holy Eucharist (with Sunday School and child care available) - This is a time to gather with the community, fed by Christ's Word and the Eucharist, and sent out into the world to share Christ's love. The service lasts about 1 ¼ hours.
Mondays at 10:30 a.m. - Yoga & Contemplative Prayer - This is an opportunity for quiet reflection & listening to God. The service lasts about ½ hour.
Our Music Program - Christ the Lord Church's music director is Jeanne Walpole, a gifted pianist, organist and jazz musician, who also teaches at the Berkeley Jazz School. The choir provides beautiful music, and you are invited to sing along on our varied music, which includes both traditional and contemporary songs. There are occasional beautiful jazz vesper services on Sunday evenings. Christ the Lord Church is truly blessed to have such a talented musician as Jeanne Walpole to lead these wonderful services!
Weekly Readings - For Sunday Bible readings, along with helpful commentary and a reflection question, go to

http://www.christthelordpinole.org/this-weeks-lessons.html

Other Bible Resources - Normally, lessons are read from the New Revised Standard version (NRSV) of the Bible. You can look up passages in the NRSV by going to the following link:
http://bible.oremus.org/
If you'd like to compare the NRSV translation with many other translations of the Bible, go to the following link:
http://www.biblegateway.com
The Book of Common Prayer - Worship normally comes from the Book of Common Prayer, the book of authorized worship services for the Episcopal Church. If you'd like to check out the Book of Common Prayer online, go to:
http://www.bcponline.org/
Para español, visite a
http://archive.episcopalchurch.org/documents/HM_Libro_de_Oracion_Comun.pdf
Lay Ministers - In addition to our ordained clergy, the Rev. Susan Champion and the Rev. Vicki Gray, lay ministers take an active role in our weekly worship and in all aspects of the church's life. All the people of the church are Ministers, and you can make a difference in the world too!
Daily Prayer: A Resource of Forward Movement
prayer.forwardmovement.org

Inspiring readers since 1935, the Forward Day by Day meditation is a significant resource for daily prayer and Bible study to more than a half million readers worldwide.
---
Covenant Groups and Adult Classes
Throughout the year, there are different adult classes, based on interest and need. Recent classes have included a series on Racial Justice based on the 2016 Trinity Institute (You can watch the videos we used at
https://www.trinitywallstreet.org/videos/education/trinity-institute-2016
), and a class on Islam to help us better understand our Muslim neighbors. We also have a beginning Spanish class that meets on Wednesdays at 3:30 pm. You are also welcome to join one of the Covenant Groups, weekly Bible Studies that meet around the community. If you'd like more information about any of these classes, please contact Mother Susan at 510-245-7542 or at
vicarsusan@hotmail.com
Children's Classes

Children's Sunday School - The Sunday School is for ages 3 years old -6th grade. Our Sunday School runs from September-June with occasional classes in the summer. Good Sunday School is more than just teaching Bible stories (though that's an important part of it). The Living the Good News Sunday School program is a lectionary-based program that focuses on spiritual formation for young children. The Sunday School meets during the first part of our regular Sunday service at 9:30 a.m. After Sunday School, most of the children join the congregation for Holy Eucharist. Infants and preschool age children are welcome to stay in the nursery with the child care attendant if sitting in church is too hard for them, and we also have children's bulletins in the church and a children's' activity center in the back of the church. To see a sample Living the Good News lesson plan

click here

. If you'd like to learn more about our Sunday school or sign your child up, please contact Mother Susan at 510-724-9141 or

vicarsusan@hotmail.com

.
Spiritual Resources
There are many resources you can use for daily prayer available in books and online. Check out Forward Movement's daily meditations, which can be found
here.
You might also enjoy Loyala 3 Minute retreat in
English
or
Spanish
or Sacred Space in
English
or
Spanish
for a reflective scripture meditation.